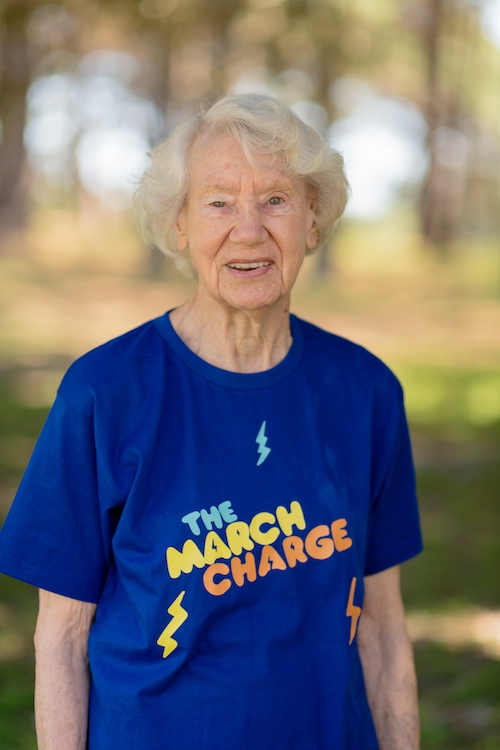 Heather Lee
We're thrilled to announce that nonagenarian and world-record holding race walker Heather Lee is our 2018 The March Charge Ambassador!
Heather's husband Leonard passed away from lung cancer in the late 1990s and his last words to her are her inspiration for keeping active and taking on race challenges.
'Now is the time to show your mettle.'
Heather started competing in race challenges in 2001 after completing her first City2Surf and getting hooked on the adrenaline rush at the finish line, this was followed by great successes in other fun runs.
With most professional athletes competing in their teens, twenties and thirties, Heather's athletic debut was quite different. She only took up race walking in 2011, at the age of 84, after it was suggested that she register to compete in the Masters Games in Adelaide. She came home with four gold medals and proceeded in 2012 to break all the Australian Records plus two World Records.
Now at 91, Heather continues to walk her way into the record books, recently breaking two race walking Word Records for the 3,000 metre and 5,000 metre events at the October 2017 Australian Masters Games in Tasmania.
This year will be Heather's second taking part in The March Charge and she has set herself a goal to walk 250km after smashing her 200km goal last year five days before the end of March.
At 91 years young, Heather leaves many decades younger in her dust – see if you can catch up to her!